9-11-08
Shelby St & Southeastern Ave
Indianapolis, IN
IFD

1-Alarm + Ex Abandoned Building Fire

Third time this building has been on fire in the last year or so.
Building is/was abandoned.





CLICK ONCE TO OPEN, CLICK AGAIN TO CLOSE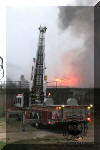 All Photography Copyright 2008 this site. Please don't steal my hard work!