6-8-09
6923 Brookville Rd.
Indianapolis, IN
IFD, Beech Grove FD, Franklin Twp. FD

2-Alarm(+) Building fire
Smoke from storage attic upon arrival.
Quickly escalated and overtook roof.
Companies then went defensive and 2nd alarm was called.
Four injuries (slight) to firefighters w/two transported to hospital.

CLICK ONCE TO OPEN, CLICK AGAIN TO CLOSE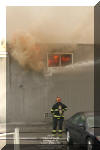 Photography Copyright 2009 this site. Please don't steal my hard work!