11-7-08 2:30am
2600 Country Club Rd.
Indianapolis, IN
Wayne Twnshp FD

Full Extrication - 1 patient
Ford Explorer ran down into 30ft. embankment
Remote road on west side.
Patient pinned inside vehicle.
Condition unknown.

CLICK ONCE TO OPEN, CLICK AGAIN TO CLOSE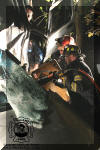 All Photography Copyright 2008 this site. Please don't steal my hard work!