1-27-2010
825 Eugene St.
Indianapolis, IN
IFD

1-Alarm Residence FIre
Heavy Smoke and Fire upon arrival.
Crews went to defensive attack after initial attack.
Call came is as an entrapment, but resident was found out front.
Resident was still transported to hospital for smoke inhalation.
Mayday called during fire, but firefighter was successfully rescued.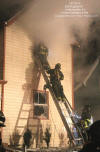 All Photography by Tod F. Parker
Copyright 2010 PhotoTac.com