8-25-2011
3564 W. 71st St
Indianapolis, IN
Pike FD

1-Alarm Residence Fire

Originally called as an investigation, crews could see involved house through woods.
With difficulty finding a way to actually access the house, crews arrived on scene to find
the house fully involved with no water supply. Tanker had to be called in.
House was total loss. No injuries reported. Cause under investigation.



Click to view.
Use Mouse or arrow keys to navigate slide show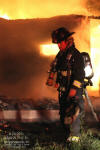 All Photography by Tod F. Parker
Copyright 2011 PhotoTac.com